Dr. Heather Henson-Ramsey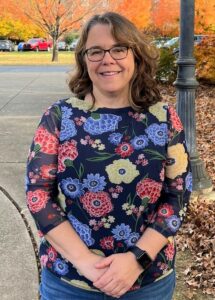 Dr. Heather Henson-Henson Ramsey, a veterinarian with nearly a decade of academic leadership experience and 15 years of teaching in a collegiate classroom, has served as interim dean of the College of Nursing at Tusculum University since September 2022. She is collaborating with faculty members and university leaders to build on the college's strengths and help the college achieve further success in its training of the next generation of caregivers.
She came to Tusculum in 2019 as dean of the College of Science, Technology and Mathematics and still holds that position. During her time, research has been a major component of the active and experiential learning experience for students.
In 2022, four students in the college were selected as Ledford Scholars of the Appalachian College Association to conduct stipend-funded research. Chemistry and biology students have also conducted cutting-edge research into anti-cancer drugs throughout her time at the university. During her service, faculty members have mentored students in these initiatives, but they have also undertaken their own research on subjects, such as the effect of COVD-19.
In addition, Dr. Henson-Ramsey has driven programmatic assessment redesign to meet regional accreditation standards, developed articulation plans with local community colleges and taught Human Anatomy and Human Physiology courses. She is active at Tusculum in multiple other capacities, such as serving as coordinator of career services for Tusculum, a member on the university's Strategic Planning Team, implementation lead for the Quality Enhancement Plan and a member of the Pioneer Pathway Task Force, which has guided the institution's response to the coronavirus.
Dr. Henson-Ramsey is a well-respected Tusculum family member, having twice been named the President's GEM (Going the Extra Mile) Award recipient based on nominations from other university employees. Outside the university, she works part time at veterinary clinics, volunteers with a Girl Scout troop and is a guest lecturer in local schools.
Prior to coming to Tusculum, Dr. Henson-Ramsey taught biology and was chair of the Division of Natural Sciences and Mathematics at Lewis-Clark State College in Lewiston, Idaho. She served in statewide general education committees in natural science and mathematics and developed statewide transfer policies and articulations.
Dr. Henson-Ramsey has a bachelor's degree in biology and a minor in chemistry from the University of North Carolina, Wilmington; a Doctor of Veterinary Medicine and a Ph.D. in population medicine and toxicology from the North Carolina State University College of Veterinary Medicine.