NOTICE: Due to health and safety concerns for COVID-19, Tusculum University has canceled all Grad Finale events scheduled for April 8-9, 2020.
Also, Tusculum is postponing spring commencement until Saturday, August 8, at 10:30 a.m. in the Pioneer Arena. This ceremony will be for all spring and summer graduates.
Those who are scheduled to graduate (completing all degree requirements) in May will not have to wait until August to have their degrees conferred and their diplomas awarded.
---
Congratulations to our Spring 2020 Graduates!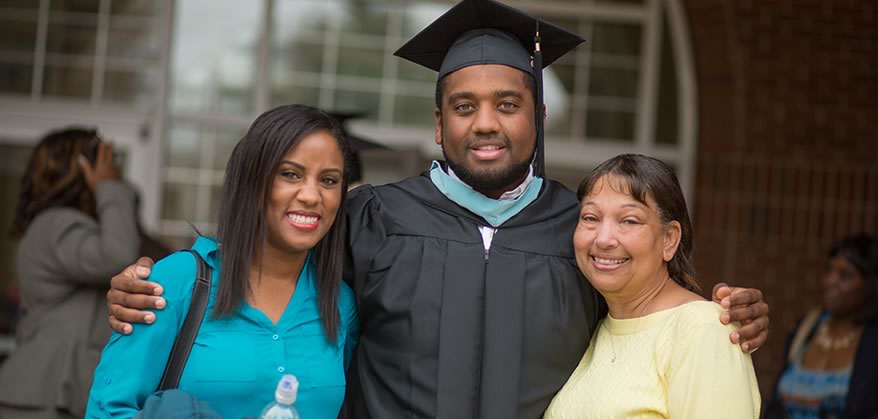 Information for August 2020 Commencement
---
CAMPUS MAP & VISITOR'S GUIDE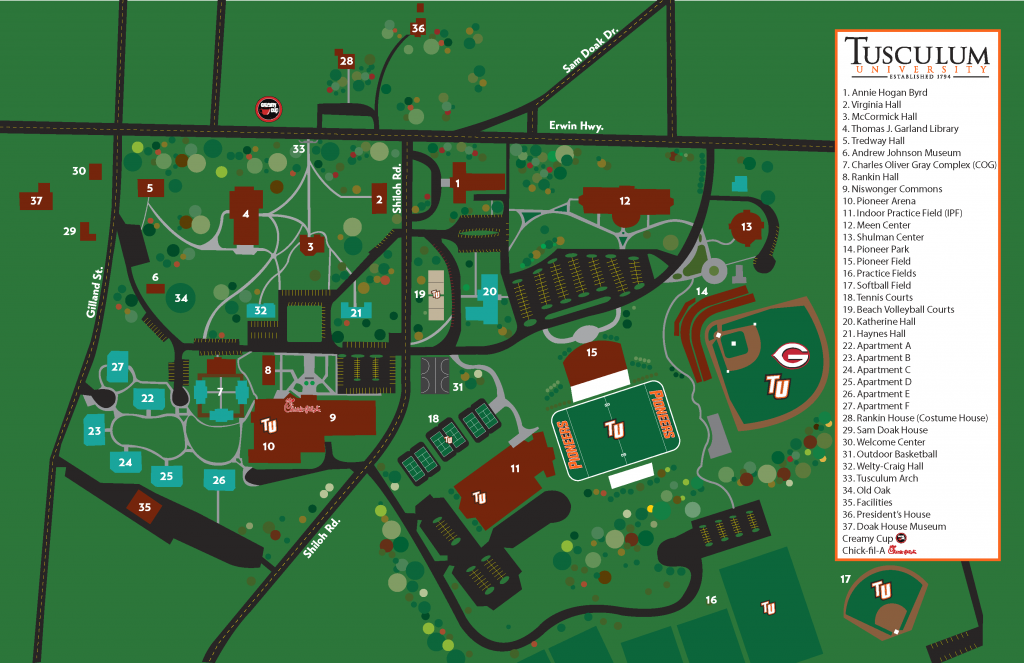 ---
DISABILITY ACCOMMODATIONS
Graduates and guests who needs disability accommodations such as closed captioning, or a sign-language interpreter, should email their request to Counseling and ADA Services at counselingandadaservices@tusculum.edu or by calling 423-636-7300 ext. 5402 at least two weeks before graduation. Read the information below for details about accessible parking and seating.
Disability Parking
Disability (handicapped) parking is available in the lot in front of Niswonger Commons (Building 14 on the campus map) on a first-come, first-served basis. If you have a permanent or temporary Tennessee or other state-issued Disability (handicapped) Placard, you may park in the lot. If you do not have a placard, on the day of commencement, you may drive to the lot and speak with the lot attendant to request to park in the lot. The lot in front of Niswonger Commons will serve as an unloading area.
Waiting Area for Priority Seating
Please arrive 45 minutes before the ceremony to benefit from priority seating.
Near the entrance of Niswonger Commons, we will have a person holding a sign stating, "Disability Seating." The person will escort the guest with a disability along with two of their companions to the waiting area to wait for seating to begin.
Priority Seating Procedures
An usher will escort those persons with disabilities plus two of their companions from the waiting area to the reserved seating area located in Pioneer Arena.   
---
ETIQUETTE
Graduates and guests are encouraged to read tips for enjoying the Commencement ceremony:
---
PICTURES
A photographer will take your picture with President Hummel while you are on the stage and another after you exit the stage at the bottom of the steps.  There will be an additional picture taken as graduate students are hooded on stage and undergraduate students as they are greeted by their dean.
Images and pricing can be found at www.events.lifetouch.com or you may call the local LifeTouch office at 423-764-3778.
---
DIPLOMAS
To make Commencement flow as smoothly as possible, you will be handed a diploma tube during the ceremony.  The Registrar's Office will certify each candidate's degree after all final grades have been received.
Final grades must be submitted, all academic requirements verified, and financial obligations to the university met before diplomas are issued. Diplomas for spring graduates will be available for pickup between 8:30 a.m. – 5:00 p.m. in the Registrar's Office, Ground floor of Virginia Hall, Main Campus starting on Wednesday, May 20, 2020.  We encourage you to pick-up your diploma to eliminate any damage that may occur if it is mailed. Diplomas for spring graduates that have not been picked up by Wednesday, July 1, 2020, will be mailed to the students' permanent address via United States Postal Service.
Diplomas for summer graduates will be available for pickup on Wednesday, August 12, 2020.  Diplomas for summer graduates that have not been picked up by Wednesday, September 15, 2020, will be mailed to the students' permanent address via USPS.
Should you have any questions about the status of your diploma or need to update your mailing address, you may email the Registrar's Office at registrartu@tusculum.edu.
Congratulations on your accomplishment! 
---